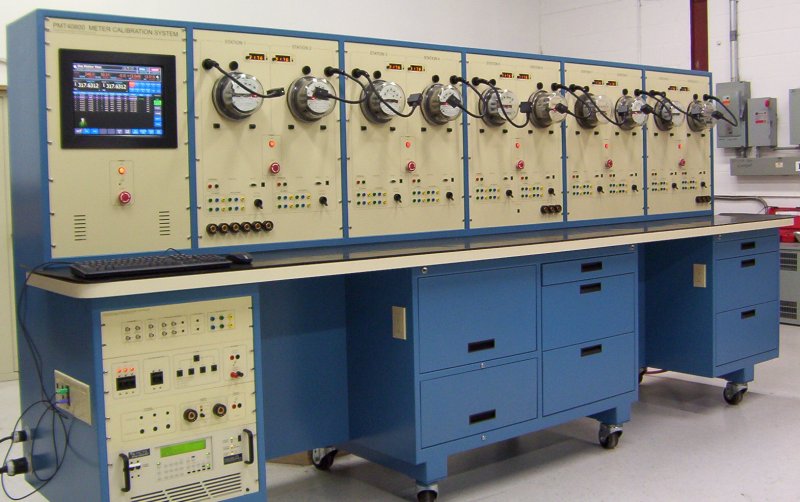 PMT40600 Meter Calibration Console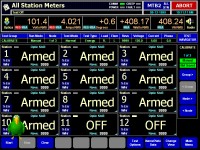 MTB Assist screenshot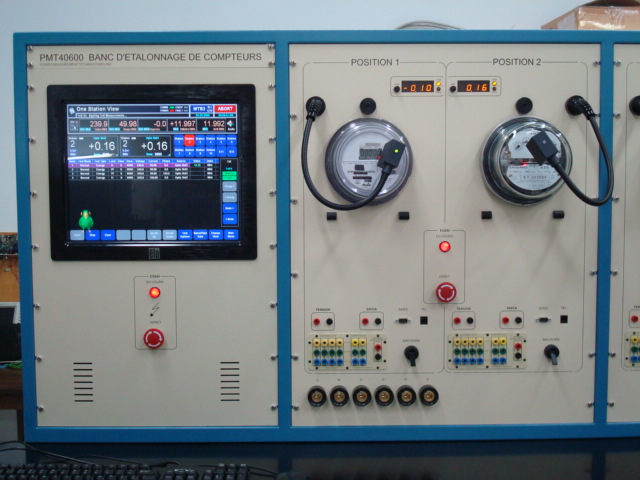 Stations 1 and 2
PMT40600 Meter Calibration Console
The model PMT40600 is a fully automatic multi-position Meter Calibration Console designed to facilitate the testing of single-phase and poly-phase energy and demand meters to CSA/ANSI specifications.

Complete system automation eliminates the typical practice of connecting leads and plugs to configure the voltage and current circuits for a given meter type. The operator simply identifies the meter type and the system is ready to perform testing of standard or user defined test sequences. This capability provides several benefits encompassing enhanced productivity, reduced learning curve, meter protection, equipment protection and operator safety.

The system architecture allows consoles to be configured with 6, 10 or 20 positions supporting direct S-base testing. Bottom connected meters can be tested with adapter sockets or hard-wired to the provided voltage and current terminals. A single-phase, phantom load source, powered from solid-state amplifiers provide S-E-01 compliant voltage and current waveforms.

An integral host computer provides a direct, intuitive and 'user-friendly' operator interface based upon the Microsoft Windows XP operating system. The hosting computer provides automatic execution of pre-programmed test sequences, storage of meter records, printing of test certificates and reports, statistical analysis and connection to a local area network as required.

Additional features of the system include a precision Dual Reference Standard, versatile multi-mode optical pickup, local Station Error displays, multi-channel Station KYZ pulse inputs and dual Pulse Generator.

Of concern to Canadian utilities and manufacturers, the PMT40600 has been designed to meet or exceed the Measurement Canada S-E-01 specification for Electricity Measuring Apparatus.
--- Console Features ---
Measurement Canada S-E-01 Compliant
Overall typical system accuracy of 0.05%, maximum 0.1% without software corrections
Automatic configuration of test voltage, current and phase angle
Automatic configuration of coil selection, voltage and current mapping
Dual four-quadrant active/reactive energy standard
Wide current operation from 0 to 200 amperes
Wide voltage operation from 0 to 660 volts
Closed link testing of single phase, three-wire (Form 2S) meters
Versatile optical unit with non-laser target light detects disc rotation, visible/infrared light pulses and LCD segments
Ramp time to target setpoint less than 5 seconds
Current source incorporates 'Active Harmonic Suppression' (<0.2%THD)
Concurrent regulation of active, reactive and apparent power
Pneumatically operated 15-jaw meter sockets are rated 200 amp continuous
Fault tolerant voltage and current sources protect operator, equipment and test meters
Optional Transducer (20mA, 4-20mA, 10mA, 5VDC, 10VDC) testing
Up to 4 KYZ input channels at each Station
Dual pulse generator
Executes multiple node composite tests (registration, energy, demand, totalizing) continuously and unattended
Microsoft Windows XP based 'MTB Assist' application software provides virtual instrument graphical touch-screen interface and Microsoft Access compatible meter record database