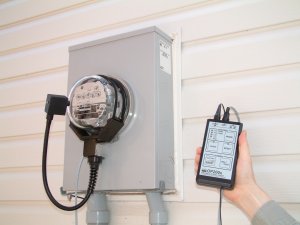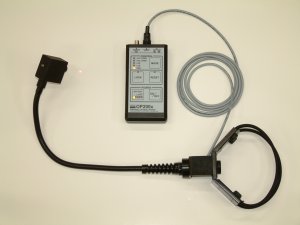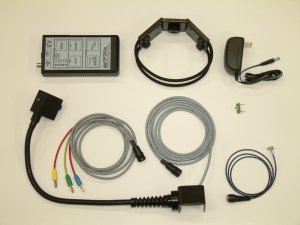 OP200x Portable Optical Pickup
The OP200x is a versatile, lightweight, portable instrument designed to detect watt-hour meter disk rotation, light pulses, LCD segments and contact closure events.

The OP200x output pulse is typically connected to a pulse count comparator or power circuit analyzer to facilitate the derivation of meter accuracy.

The instrument replaces five separate pickup transducers and offers a visible targeting light without resorting to the the potential health hazards of laser light sources.

The instrument incorporates both light modulation and optical processing technology to provide accurate detection and ease of use in all ambient light environments.

The sensor head is attached to the end of a flexible arm which is connected to a meter saddle, or optionally, a magnetic base. The meter saddle is positioned on the meter under test and secured by two bungie cords. This assembly provides a stable and quick positioning mechanism.

A targeting light source and event indicator are also located on the sensor head to facilitate positioning. The small red light spot formed by the targeting light source allows for quick and precise aiming on either a disk edge, a light emitting diode or an LCD display segment. The dual function event indicator located on the back of the head both aids the operator in positioning the sensor and also provides a visual indication of detected events.

An isolated output circuit combines both an active logic level or open-collector output pulse. This configuration eliminates the requirement for an externally supplied DC pull-up voltage while still accommodating the traditional open-collector output interface.


--- Instrument Features ---
Five pickup transducers packaged in one instrument
Detects rotating discs, visible and infrared LEDís, LCD segments, 2-wire and 3-wire KYZ contact events
Immune to ambient light variations
Visible red targeting light (non-laser)
Automatic sensitivity adjustment
Rechargeable lithium-ion battery provides up to 8 hours of continuous operation